Next generation seismic
Next-generation seismic data we acquire is characterized by greater spatial sampling and better distribution of offsets and azimuths. Acquisition requirements for complex areas can only be met by autonomous nodal systems, which are characterized by low weight, long battery endurance and large memory.
Furthermore, the large amount of recorded data implies a change in the philosophy of quality evaluation in the direction of statistics rather than excessive care for the quality of a single record.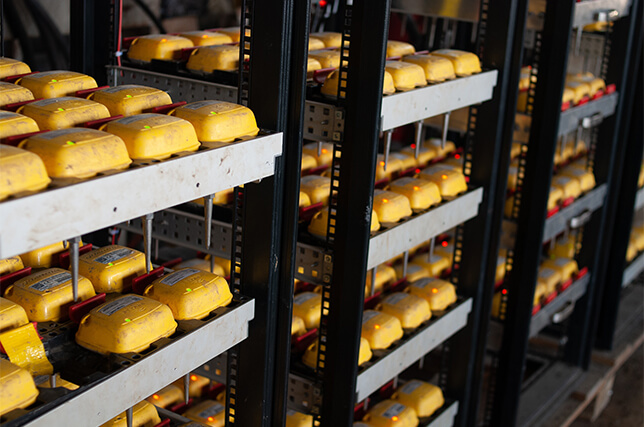 Our new generation nodal-based seismic allows to:
Reduce permitting hazards
Challenge terrain access
Increase trace density and spatial sampling
Increase productivity
Reduce hazard situations
Reduce the footprint on the environment
Seismic survey design and planning services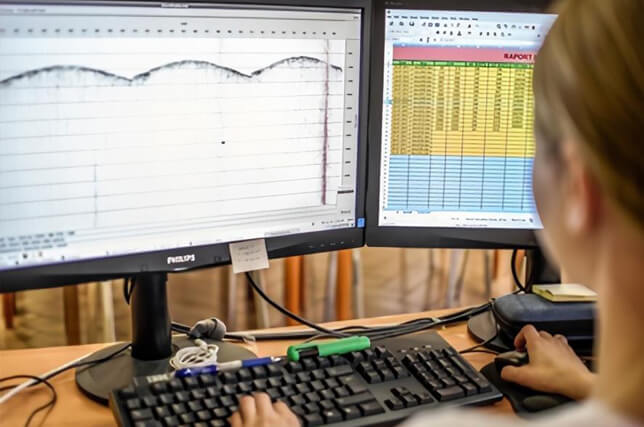 Our highly experienced team offers a multistage cost-effective survey design and planning driven by Client's geological objectives.
We start from seismo-geological modelling, ray tracing to select optimum spatial sampling, offset and migration aperture; then we perform illumination studies in order to analyse the effect of different survey layouts geometry on final seismic data quality.
The candidates are evaluated over specific structures in sense of cost and optimum migration aperture selection and such attributes like:
Hit count
Offset and azimuth distributions
CMP-CRP horizontal discrepancies
Finally, the selected layout geometry undergoes a feasibility study to adapt with field conditions. At this stage we implement a second pass using field scouting results and compensation sources and receivers to improve attributes distributions over exclusion zones.
Our survey design takes advantage of the specific of nodal seismic data acquisition system favouring denser spatial sampling.
All the design process takes into account data processing stage considerations, including receiver sampling for adequate noise suppression, improved source sampling, long offsets and wide to full azimuths for well sampled gathers and high trace density in every domain (source, receiver cross-spread, offset and azimuth).
Such approach allows assess Client's specific imaging challenges. Our survey design services include 2D/3D and VSP for 3C as well. We design also field tests for source energy parameters selection.
The survey design is tailored to interpreter's needs for analyses performed on conventional and non-conventional reservoirs such as:
Structural and litho-facial interpretation
AVO or pre-stack inversion for pore fluids and fractures detection
Post-stack Inversion and Attribute Analyses
Edge effect analysis
Anisotropy analysis
Land permitting
Land permitting is the very first phase of each seismic project and at the same time one of the most important steps to allow other field activities proceed seamlessly. With our track record experience Seismic data Acquisition Division developed efficient and cost effective system of conducting permitting works. It is focused on preserving clients "good neighbour" status.
For maintaining landowners and land users data, our permitting department use a custom on-line application. This advanced proprietary tool is connected with GT's servers and gather all information regarding signed agreement forms and damage compensation protocols. It's an easy way to access data base containing register of names, addresses, contact numbers and owned properties.
Additionally it includes information of obtained administrative permissions and decisions from local authorities as well as scanned documents, roads documentation, concessions and other relevant records.
Moreover, it is a data base of all damage caused and prepared compensation protocols. All this information can be gathered and presented in numerical and graphic way in several template reports. As the application is connected to our internal server, all data is properly secured according to obligatory law requirements.
Secondary option we offer is the integration of data base with GIS environment for visual presentation and analyse in all types of geographic information systems as well as export them to digital or paper maps.
The application has also capability of integration with SMS gate, National Post postal order system and other external applications. All that functions make this program unique solution on the market and allows us to be faster and more accurate.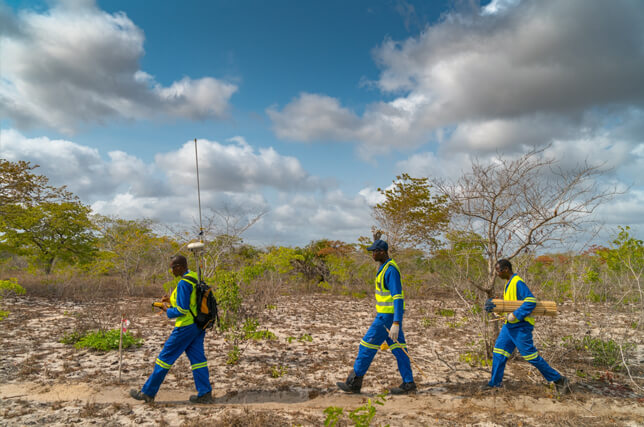 Surveying works
Seismic Data Acquisition Division provides comprehensive geodetic services employing the latest generation and highest accuracy GNSS-RTK satellite Trimble geodetic receivers, the Inertial Navigation System and conventional Total Station instruments.
With the Inertial Navigation System our performance excels in forest areas with poor GPS coverage. Our team has all the necessary qualifications and permits to run various types of geodetic services.
LVL investigation
The near- surface characterization is a priority task in survey seismic design planning and execution for each seismic campaign. For statics and near-surface velocity model building, that is crucial in depth migration, we analyse existing archival data then design a new additional grid of uphole and /or refraction survey to map LVL thickness and velocity.
We use 48 channel recording systems and different shooting schemes, whereas weight drop, hammer and blasters serve as the energy sources (GPEG -500 and PEG 40).