Quality Health Safety Environment
As a company rich in experience with several decades of work in almost every corner of the world, GT is committed to supporting sustainable development, defined as the economic and social development connected with environmental protection, and recognizes also the need for ensuring diverse opportunities to improve society development.  

Geofizyka Toruń is a company whose strategy constitutes responsible business in line with principles of sustainable development.

We believe that not only can the Company create value for owners, but also be a leader which contributes positively to the natural environment and society.

QHSE Management System
Our projects are carried out in full compliance with the individual objectives, expectations and QHSE requirements of every Client and in line with industry (IOGP / EnerGeo Alliance) HSE standards, ensuring safe and efficient operations.
We have international experience in managing various HSE hazards related to diverse terrain and climate conditions, operational needs and challenges, multicultural aspects.
We put an emphasis on detailed HSE risk assessment and adequate work planning, and committed day-to-day cooperative HSE and operational management.
Our visible proactive approach and culture of continuous improvement allow us to set goals and comprehensive solutions to minimize incidents risks, improve work standards and engage all employees as we believe that safety and quality of works starts with each of us in our "Mission Zero" – striving after injury free workplace and QHSE excellence.
ISO 9001:2015 ISO 14001:2015 ISO 45001:2018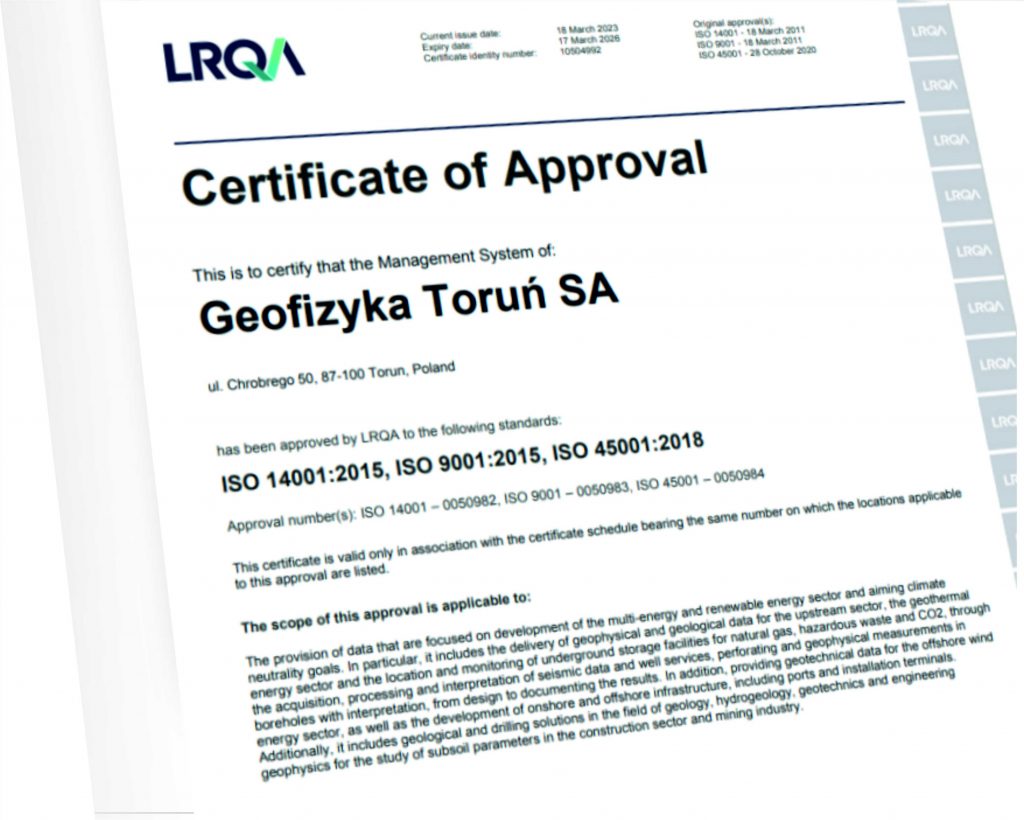 Safety Performance Awards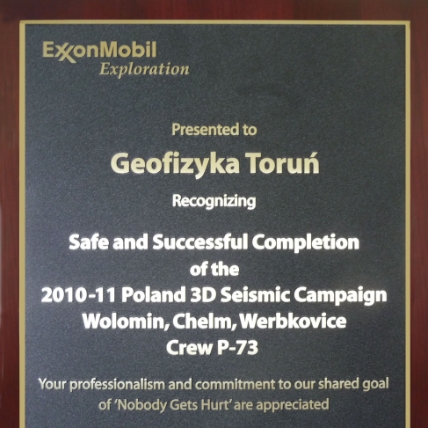 Safe and Successful Completion of the 2010-11 Poland 3D Seismic Campaign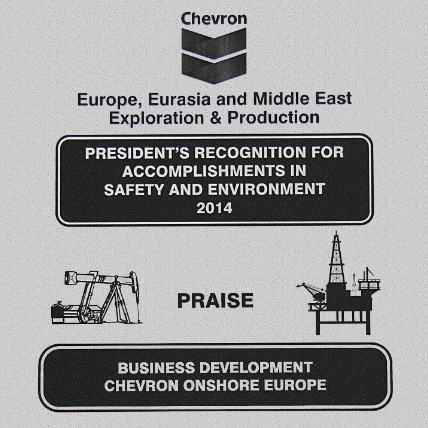 President's recognition for Accomplishments in Safety and Environment 2014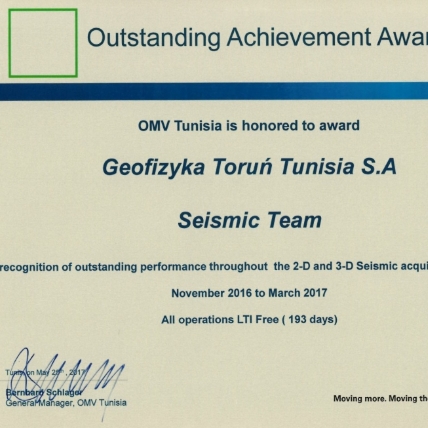 In recognition of outstanding performance throughout the 2-D and 3-D Seismic acquisition campaign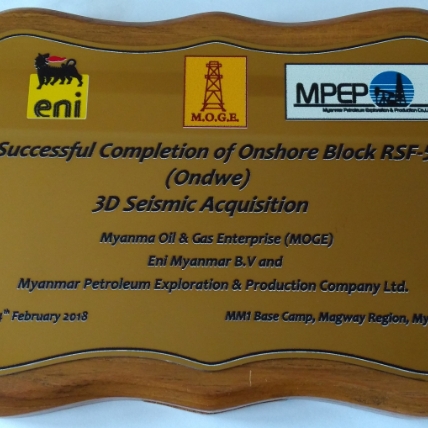 Successful Completion of Onshore Block RSF-5 (Ondwe) 3D Seismic acquisition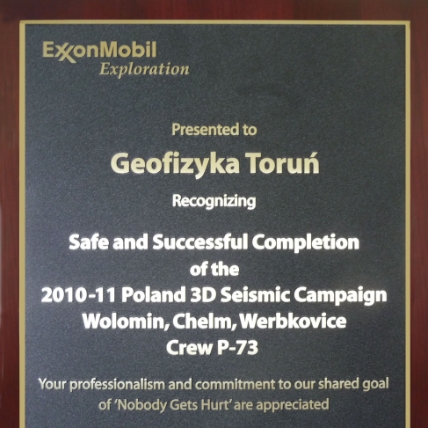 Safe and Successful Completion of the 2010-11 Poland 3D Seismic Campaign
Quality – Striving for clients satisfaction through service quality
GT's culture built on responsibility, professionalism and mutual trust results in the commitment of all our employees to meeting our Clients' expectations. We attach special importance to direct cooperation and effective communication with each Client in order to ensure the clearest understanding on every stage of the service. GT gathers Client feedback and learns the lessons from previous projects  to optimize our exceptional service quality. GT puts strong emphasis on training and qualification of employees and the quality of the applied equipment and software, as evidenced by comprehensive long term training and investment plans. It is important to highlight the dedication of all employees to achieving quality objectives. Developing of unique seismic data processing software, not available in the market, which enables us to solve technological problems is a perfect example.
Health & Safety – Targeting in zero incidents
Prevention of injuries and occupational diseases is the highest priority in the everyday work of GT. Our approach to safety at work is expressed in our goal: striving for zero incidents & occupational diseases.
This goal is achieved with:
Continuous hazard identification and risk assessment,
In-depth post incident and near miss investigation process and implementation of preventive measures
Appropriate HSE planning, e.g. in the scope of employees HSE competencies, work procedures, transport and journey management, inspections and audits, emergency preparedness
Conscious and uncompromising implementation of prepared HSE plans
We believe that real leadership and personal example in day-to-day work of senior management, supported by visits in field units, is a key to success to incidents free operations.
Crucial in building safety culture is the involvement of all GT's employees, enhanced by:
Execution of Mission Zero Campaign incl. GT Life Saving Rules
Development of HSE awareness through HSE trainings (e.g. BBS) and regular HSE meetings
Implementing recent tools of HR and HSE, e.g. incentive programs, positive observations and unsafe acts and conditions reporting system, HSE contests
First Aid Program
Multidimensional open HSE communication, eg. meetings, safety alerts, posters, informative leaflets etc.
Our basic work rule is that each employee is responsible for their own and their co-workers safety. STOP Work Policy guarantees each employee, including the subcontractor's employee, the right to stop work if work conditions cause a direct threat to life or health and/or are not in line with HSE regulations.
GT employees are supported in following safe work practices by a professional team of HSE Advisors having wide experience and qualifications including HSE studies and NEBOSH certificates.
Environment - Carrying out environmentally harmless operations
We believe that a healthy environment is essential for the proper functioning of society, our employees, our business activity and constitutes the core of a sustainable and strong economy.
Our efficient environmental system enables GT carrying out seismic projects in a friendly and harmless way for the environment in various conditions, often in environmentally sensitive areas, always in full compliance with legal regulations and environmental restrictions.
In GT, we set specific goals to increase our pro-environmental activity in order to fulfill the declarations of our Environmental Policy. Great significance is attached to:
detailed identification of environmental aspects and adequate operational planning
close cooperation with local communities and authorities
broadening employees' environmental knowledge and awareness
environmentally responsible procedure e.g.: appropriate waste management, optimal journey management ensuring "no foot print left" operations and possibility of environmental monitoring
Wherever possible, in accordance with the idea of responsible business, we aim to connect ecological and pro-environmental activities. This trend includes extending the scope of the GT's services into specialized geophysical (geo-engineering) services for the purpose of geothermal research and localization of underground storage for natural gas and CO2.